(December 16, 2021)
– According to new data from Minneapolis Area REALTORS® and the Saint Paul Area Association of REALTORS®, the median sales price in the Twin Cities rose 9.4 percent from last November to $339,000. While that's down from the dizzying gains seen over most of 2021—anywhere from 10.0 to 17.0 percent—the YTD median price is up 11.5 percent to $340,000.New listings ticked 1.2 percent higher from November 2020, the first gain in seller activity since July. If continued—and especially if combined with flattening buyer activity—that could lead to more inventory in 2022. Pending sales also inched higher, up 0.8 percent from last November. Closed sales slid slightly, down 3.0 percent from the heights of 2020 but up considerably from 2019. Notably, despite a decline in closings, a rise in a leading indicator like pending sales indicates strong demand in the pipeline. On a YTD basis, seller activity is down slightly while buyer activity is up modestly.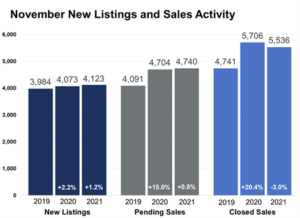 The Twin Cities just inked its 10th straight year in a metro-wide seller's market. Relentless demand, tepid listing activity and tight inventory have driven absorption rates down to 1.1 months of supply. Four to six months of supply is considered balanced. Stable demand and rising seller activity is needed for a more balanced marketplace."We're seeing more gradual change and less competition compared to last November versus earlier months and we also have over 90.0 percent of 2021 in the books," said Todd Walker, President of Minneapolis Area REALTORS®. "It looks like sales will hit a new record even as seller activity is weak and inventory is tight." Up over 11.0 percent so far this year, home prices will also likely hit new highs. That record still hinges on December, when homes tend to take longer to sell and for a lower price. But winter months account for a smaller share of activity and thus have less impact on annual figures. The average market time in November was 30 days, but the median was 16 days. That median is up from 15 days last year. Sellers accepted, on average, 99.8 percent of their list price, down from last year, but still a strong number.
Inventory levels tumbled 18.6 percent compared to a 40.4 percent decline back in May. "While the housing shortage is still very real, there are signs that the ultra-competitive landscape is easing a bit," according to Tracy Baglio, President of the Saint Paul Area Association of REALTORS®. "But not before we managed to post a new record for closings through November. I expect this to continue as rates remain attractive."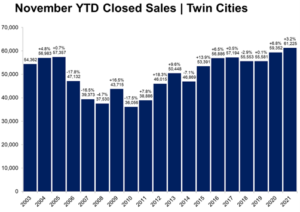 Market activity varies by area, price point and property type. Home sales doubled in the Cleveland, Windom, Corcoran and Hawthorne neighborhoods, but fell over 50.0 percent in Cooper, Hale and Jordan. Sales in Falcon Heights, Delano, North Branch and Mendota Heights rose over 80.0 percent but fell over 50.0 percent in Wayzata, Medina and Wyoming. Home sales over $1M rose 43.6 percent over the last 12 months. Sales between $150,000 and 190,000 dropped 31.0 percent. Sales in Minneapolis reached their second highest level since 2005. Though a small share overall, condo sales increased more than single family and townhome units.
November 2021 by the numbers compared to a year ago
Sellers listed 4,123 properties on the market, a 1.2 percent increase from last November
Buyers signed 4,740 purchase agreements, up 0.8 percent (5,536 closed sales, down 3.0 percent)
Inventory levels fell 18.6 percent to 6,110 units
Month's Supply of Inventory was down 21.4 percent to 1.1 months (4-6 months is balanced)
The Median Sales Price rose 9.4 percent to $339,000
Days on Market fell 11.8 percent to 30 days, on average (median of 16 days, up 6.7 percent from November 2020)
Changes in Sales activity varied by market segment

Condo sales rose 14.7 percent, single family sales fell 0.9 percent & townhouse sales rose 4.6 percent
Traditional sales were up 1.5 percent; foreclosure sales were down 52.9 percent; short sales fell 22.2 percent
Previously owned sales increased 4.1 percent; new construction sales decreased by 19.2 percent