Gardeners aren't the only ones struggling with spring weather this year. The season's late start and temperature swings suppressed housing market activity early this year, but those effects are moderating. The latest numbers for Twin Cities residential real estate show some strength amidst ongoing signs of change. Prices reached a new record of $281,000. New listings reversed course and rose 4.5 percent. Closed sales were down about 7.0 percent though pending sales—a measure of future closings—fell just 1.1 percent. Market times rose 5.7 percent year-over-year, the second increase since March 2015. Another sign of a changing market is the ratio of sold to list price has fallen for five of the last six months. In conjunction with other indicators, this suggests the market is improving for buyers, even though sellers still have strong pricing power, favorable negotiating leverage and quick market times.
The number of active listings for sale decreased slightly compared to the prior year. Even so, buyers have seen inventory gains for seven of the last eight months. After seven months of gains, months supply was flat at 2.0 months, suggesting the market is still undersupplied. Well-priced, turnkey properties continue to be highly sought-after. Mortgage rates remain cooperative at around 4.1 percent, which is good news for buyers. The market is tightest at the entry-level prices, where multiple offers and homes selling for over list price are commonplace. The move-up and upper-bracket segments are less competitive and better supplied.
April 2019 by the Numbers (compared to a year ago)
Sellers listed 7,679 properties on the market, a 4.5 percent increase from last April
Buyers closed on 4,384 homes, a 6.9 percent decrease
Inventory levels for April declined 1.2 percent compared to 2018 to 9,667 units
Months Supply of Inventory was flat at 2.0 months
The Median Sales Price rose 5.2 percent to $281,000, a record high for any month
Cumulative Days on Market rose 5.7 percent to 56 days, on average (median of 21)
Changes in Sales activity varied by market segment
Single family sales declined 7.1 percent; condo sales rose 9.1 percent; townhome sales fell 9.1 percent
Traditional sales decreased 5.2 percent; foreclosure sales declined 30.3 percent; short sales fell 38.9 percent
Previously-owned sales were down 8.9 percent; new construction sales surged 20.3 percent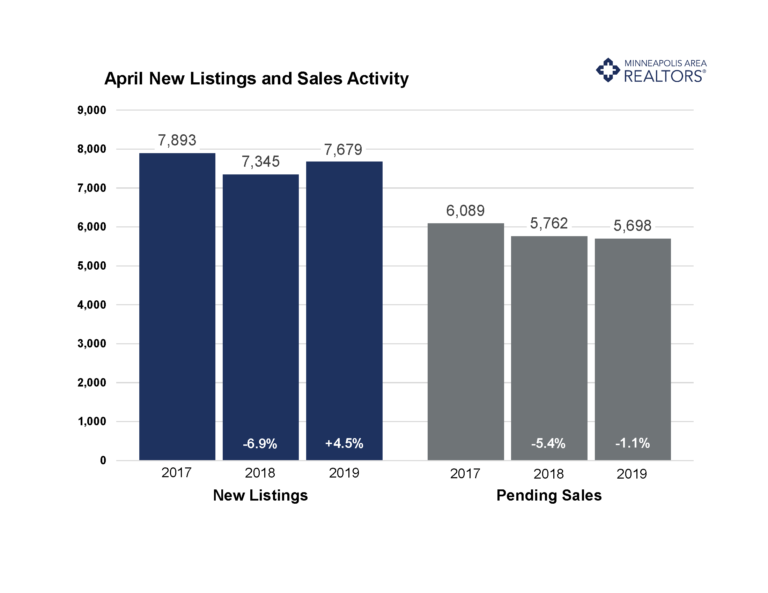 Quotables
"Things still seem to be rebalancing a bit," said Todd Urbanski, President of Minneapolis Area REALTORS®. "Low and stable rates have definitely helped, and so has the ongoing economic expansion."
"We're doing better here than many other parts of the country," said Linda Rogers, President-Elect of Minneapolis Area REALTORS®. "It's important for buyers and sellers to understand local dynamics, not national headlines."
All information is according to the Minneapolis Area REALTORS® based on data from NorthstarMLS. Minneapolis Area REALTORS® is the leading regional advocate and provider of information services and research on the real estate industry for brokers, real estate professionals and the public. We serve the Twin Cities 16-county metro area and western Wisconsin.