By David Arbit on Friday, November 16th, 2018
As sentiments regarding the direction of housing markets have changed, it's worth remembering two key facts. First, all housing is local—what's happening in San Francisco, Seattle and Denver is not reflective of the Minneapolis-St. Paul market. Second, the housing market faces fewer risks than in the mid-2000s. After years of strong buyer activity and weak seller activity, the tides seem to finally be shifting. Five of the last six months showed increases in new listings; while five of the last six months also had decreases in pending sales. It's worth noting there's a significant difference between deceleration and contraction. The market is decelerating, but not yet contracting. Prices continue to rise, homes are selling in less time and sellers are yielding a higher share of their list price.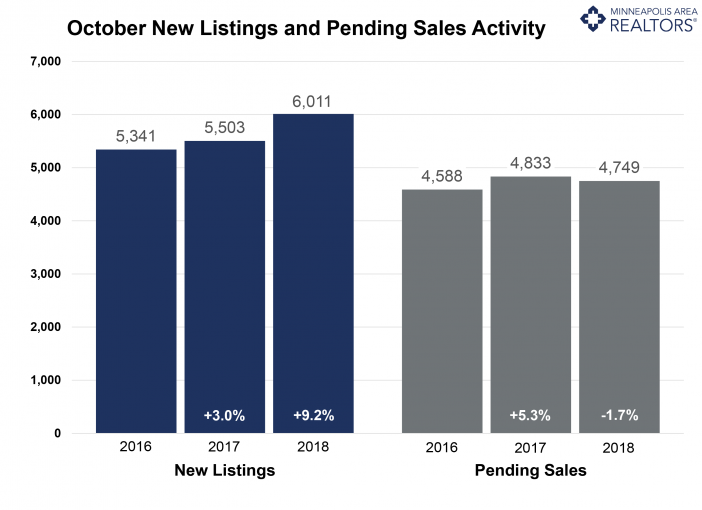 Excluding September 2018, October had the smallest decline in active listings since May 2015, and those long-awaited inventory gains could arrive as early as next year. Months supply was stable at 2.4 months, suggesting a tight market but also a flattening out pattern. Rising rates could impact some budget-conscious buyers. The lack of supply is especially noticeable at the entry-level prices, where multiple offers and homes selling for over list price are commonplace. The move-up and upper-bracket segments are less competitive and—for the most part—much better supplied. Inventory could double while sales remain stable and we'd still have less than 5 months of supply.
OCTOBER 2018 BY THE NUMBERS (COMPARED TO A YEAR AGO)
– Sellers listed 6,011 properties on the market, a 9.2 percent increase
– Buyers closed on 5,235 homes, a 3.4 percent increase from last October
– Inventory levels for October fell 2.2 percent compared to 2017 to 11,719 units
– Months Supply of Inventory was flat at 2.4 months
– The Median Sales Price rose 8.6 percent to $265,000, a record high for September
– Cumulative Days on Market declined 7.7 percent to 48 days, on average (median of 28)
– Changes in Sales activity varied by market segment:
Single family sales rose 4.4 percent; condo sales jumped 10.6 percent; townhome sales were flat
Traditional sales rose 5.2 percent; foreclosure sales sank 41.2 percent; short sales rose 4.5 percent
Previously-owned sales were up 3.7 percent; new construction sales increased 12.3 percent
From The Skinny Blog.