(June 16, 2021) – According to new data from the Minneapolis Area REALTORS® and the Saint Paul Area Association of REALTORS®, buyer activity in May was up 15.7 percent compared to last year, a twelfth-straight increase in month-over-month pending sales. Demand from buyers in the Twin Cities metro continues to out-pace the supply of new listings into the market.
Seller activity in May grew slightly in a year, up 2.6 percent from 2020, but dropped by 19.9 percent compared to 2019, our most recent pre-COVID year. The relative imbalance in performance between buyers and sellers has led to a strong seller's market. Currently, the Twin Cities has 1.0 month's supply of inventory. Typically, four to six months is considered a balanced market.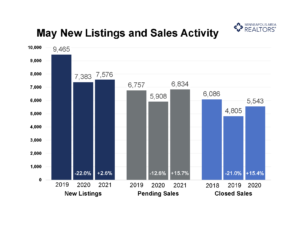 "Half of all listings in the Twin Cities have an accepted offer within a week," according to Tracy Baglio, President of the Saint Paul Area Association of REALTORS®. "As the summer season begins to build, buyers need to continue to be prepared to make firm decisions and strong offers on a home."
In May, homes spent a median seven days on market, which is down 56.3 percent from last year. The quick shelf life of listings is particularly impressive given that the median price of a home in the Twin Cities metro rose to $342,500, a 16.1 percent increase from last May. The 30-Year Fixed Rate Mortgage Average in the United States did not exceed 3.0 percent, giving buyers the ability to stretch their dollar further.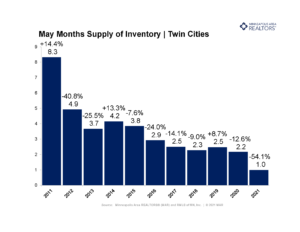 "Recent showing activity shows that prospective home buyers shifted their interests to more expensive homes," said Todd Walker, President of Minneapolis Area REALTORS®. "Two years ago, listings priced under $200,000 saw the largest share of showing activity. This year listings around $250,000 have seen the greatest share of activity."
Activity varies by area, price point and property type. Sales of single-family homes were up 42.1 percent in Minneapolis and 16.7 percent in St. Paul, suggesting demand remains strong in the core cities. Condos continue to lead sales growth by property type. Across the 16-county Twin Cities region condo sales rose 98.3 percent. Sales of previously owned homes rose 18.3 percent while new construction rose 5.5 percent.
May 2021 by the numbers compared to a year ago
Sellers listed 7,576 properties on the market, a 2.6 percent increase from last May
Buyers signed 6,834 purchase agreements, up 15.7 percent (5,543 closed sales, up 15.4 percent)
Inventory levels fell 46.9 percent to 5,687 units
Month's Supply of Inventory was down 54.5 percent to 1.0 month (4-6 months is balanced)
The Median Sales Price rose 16.1 percent to $342,500
Days on Market decreased 41.5 percent to 24 days, on average (median of 7 days, down 56.3 percent)
Changes in Sales activity varied by market segment

Single family sales were up 10.7 percent; condo sales rose 98.3 percent; townhome sales increased 13.6 percent
Traditional sales rose 16.6 percent; foreclosure sales were down 35.8 percent; short sales fell 63.6 percent
Previously owned sales were up 18.3 percent; new construction sales dropped 5.5 percent