Price growth strong, market times fast, but new listings down and supply levels very low
(March 17, 2021)
– According to new data from the Minneapolis Area REALTORS® and the Saint Paul Area Association of REALTORS®, sales activity in the 16-county Twin Cities metro continues to climb above 2020 levels while the number of signed purchase agreements flattened out. Closed sales rose 4.8 percent from last February, which was the highest figure since at least 2003. While new signed purchase agreements were also the strongest since 2005, they were down 0.1 percent from last year, suggesting low supply could be constraining sales.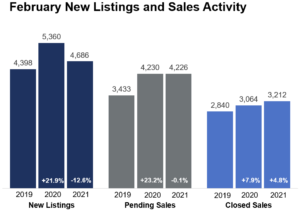 The number of homes on the market is now at a 20-year low. Sellers listed 12.6 percent fewer homes than February 2020, further shrinking a slim pool of available homes and befuddling home shoppers who continue to show up in record numbers."We're seeing lots of factors at play right now," according to Todd Walker, President of Minneapolis Area REALTORS®. "Buyers are running up against the inventory shortage even as they're inspired by 50-year low mortgage rates. We're seeing shifting attitudes around urban living and condos. People are also very encouraged by the progress on the vaccination front."
The number of homes for sale in February was down 46.3 percent compared to a year ago. That amounts to 0.8 months of supply, while a balanced market has 4-6 months of supply. At 100.1 percent of list price, sellers are still benefiting from historically strong offers, often over asking price and with multiple bids. Homes are selling in record time—half the listings in February sold in under 19.5 days. Home prices rose notably, up 11.5 percent from last February. Historically low rates can partly offset rising prices.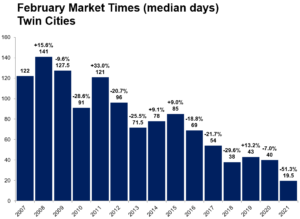 "With so many buyers vying over a shrinking pool of listings, well-priced and well-staged homes don't spend much time on the market," said Tracy Baglio, President of the Saint Paul Area Association of REALTORS®. "That means buyers have to come out swinging right out of the gate with their best offer in order to be successful."
Though pending sales were down 0.1 percent metro-wide, they were up 23.3 percent in Minneapolis and 8.4 percent in St. Paul, indicating buyer interest remains strong in the urban core. Condos also saw the strongest demand growth in both pending and closed sales. New construction sales rose 32.5 percent compared to a 2.6 percent increase for previously owned homes. Sales of luxury properties ($1M+) have been strong—up 53.1 percent from last February.
February 2021 by the numbers compared to a year ago
Sellers listed 4,686 properties on the market, a 12.6 percent decrease from last February
Buyers signed 4,226 purchase agreements, down 0.1 percent (3,212 closed sales, up 4.8 percent)
Inventory levels fell 46.3 percent to 4,670 units
Months Supply of Inventory was down 52.9 percent to8 months (4-6 months is balanced)
The Median Sales Price rose 11.5 percent to $314,000
Days on Market decreased 31.3 percent to 46 days, on average (median of 19.5, down 51.3 percent)
Changes in Sales activity varied by market segment

Single family sales were up 8.0 percent; condo sales rose 27.9 percent; townhome sales decreased 10.1 percent
Traditional sales rose 7.9 percent; foreclosure sales were down 51.3 percent; short sales fell 68.8 percent
Previously owned sales were up 2.6 percent; new construction sales climbed 32.5 percent